Dear samaj bandhavs,
We hereby inform you all that Sharad Navarathri of this year (Shobhakrut Nama Samvatsara) to be celebrated with a whole lot of grandeur from 15th October, Sunday (Ashwija Masa Shukla Paksha Prathipada) to 24th October, Tuesday (Vijayadashami). This would be the last Navarathri festival to be celebrated in the existing temple.
All samaj bandhavs are requested to be part of this mahotsav along with their family members and seek blessings of Sri Mahamaya by performing various seva.
Kindly Download English / Kannada & Malayalam Brochure PDF for Navarathri Seva and other details.
Seva
(Detailed list can be found in Navarathri Mahotsav Notice)
Kumkumarchana (I) (including items) – Rs 130 /-
Kumkumarchana (II) small – Rs 10 /-
Kumkumarchana Receipt (those who bring items) – Rs 10 /-
Suhasini Pooja – Rs 80 /-
Brahmana Santharpana – Rs 25 /-
Hannukkay – Rs 60 /-
Shese – Rs 60 /-
Sree Devi Vomti – Rs 160 /-
Chandika Havana Vomti – Rs 125 /-
Chandika Havana receipt – Rs 10 /-
Pushpalankara Pooja – Rs 255 /-
Madhyahna / Rathri Pooja – Rs 205 /-
Pavamana Abhisheka – Rs 555 /-
Udayasthamana Pooja – Rs 3505 /-
Navarathri Seva Related Soochana
Kumkumarchana offering should be made before 12.30 pm.
Kumkumarchana, Vomti, Other Seva items, Hannukkay will be available at Navarathri office.
Those who bring Suhasini, Vomti items are requested to make a receipt from Navarathri Office by paying Rs 10 /-
Those who want to do seva should inform Navarathri Office a day before.
Devotees are requested to collect receipt for all seva to be performed.
Devotees are requested to book seva & complete payment as early as possible so that we can make necessary arrangement for the same.
Navarathri Seva Amount to be
remitted to the below account only…
| Info | A/C Details |
| --- | --- |
| A/c Name | Managing Trustee SLV Temple |
| Bank name | Indian Bank |
| Branch name | Kanhangad Branch |
| A/c Number | 868722098 |
| IFSC Code | IDIB000N106 |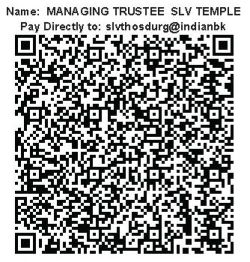 (Those who remit the seva amount to bank, kindly inform us the remittance details)
 As the temple archaks wear kankana on all days of Navarathri Mahothsav, samaj bandhavs are requested not to invite them for performing any rituals at their home.
 All householders (business men, officers etc) shall offer 'Labhadaya' at Temple office and collect receipt for the same.
Those who wish to make donation towards Navarathri Mahothsav / perform seva / offer Kanike shall make the payment at Temple Office or remit to the "Indian Bank" account of Temple. Devotees can also send Bank Cheques /Money order to the temple. Mudi Gandha prasada will be sent over post.
Shaswhatha Pooja Sevedars should update their address & phone numbers at temple database if changed.
As the interest on Shashwatha Pooja Seva amount deposited in the past are reduced, temple is unable to meet the seva expenses. Sevedars are requested to make proportionate increase in deposits towards such seva.
Based on the situation, there may be change in programme / time schedule.
Everyone is requested to strictly follow the rules and rituals of the temple.