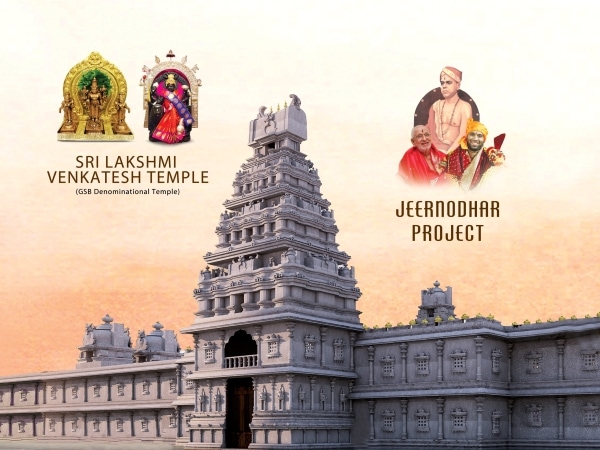 Dear Samaj Bandhav,
Hosdurg Sri Lakshmi Venkatesh Temple is the abode of Lord Sri Lakshmi Venkatesh and Sri Mahamaya, known to shower their blessings for the wealth and prosperity of the devotees and this Pete. There was a time when the Goud Saraswath Brahmins living in and around Kanhangad had to go to Kasargod to worship the community deity. Our forefathers prayed to Srimad Bhuvanendra Theertha Swamiji of Shri Kashi Math Samsthan to establish a place of worship for our community at Kanhangad.
Srimad Bhuvanendra Theertha Swamiji ordained that an idol of Sri Lakshmi Venkatesh which had been discovered from Innoli Desha (Karnataka) and worshipped along with Sri Kashi Math deities would be consecrated at Kanhangad. In 1864, the Prathishta took place in a simple manner.
The Sanctum Sanctorum (Gharbha Griha) was then built with a roof of bamboo and straw.
As years passed, Lord Sri Lakshmi Venkatesh has illumined the day to day lives of the community members. Now the temple is renowned for more than 50 festivities including Navarathri, Karthika Pournami, Sankeerthana Sapthaha, Akshaya Thrithiya, Mahamaya Prathishta Pournami, Anantha Chathurdhashi, Varamahalakshmi Vritha.
Re-consecration of the temple was done in 1920 and 1960. Upa devathas were installed in 1963. The Mathadhipathis of Sri Kashimath Samsthan observed Chaturmasya in 1975 and 2016. Vasanthothsava was also held in 1991. Visits of Gokarna and Kavale Matadhipathis, Jubilee fests of Deva Prathishta and Annual Sankeerthana Sapthaha etc. have added fame to the temple.
Srimad Sudhindra Theertha Swamiji and the present Kashi Matadhipathi Srimad Samyamindra Theertha Swamiji have always been benevolent to us. Idol of Sri Mahamaya was installed in 1980 and Sahasra Kumbabhisheka was performed in 1989 and 2013 by Srimad Sudhindra Theertha Swamiji and Srimad Samyamindra Theertha Swamiji respectively. The upliftment of our community in recent times is undoubtedly due to the blessings of our Gurus and the divinity of our temple.
A Deva Prashna was conducted in the presence of Srimad Samyamindra Theertha Swamiji, after certain unfortunate events in our Temple. During Deva Prashna, certain decay to Garbha Gudi was Observed, which was later confirmed upon physical verification. Astrologers had suggested Jeernodhara of the same. Our Dharma Guru advised us to rebuild the Temple structure in Shilamaya, so that it lasts for centuries.
Lord Sri Lakshmi Venkatesh and Sri Mahamaya have elevated us from very humble means to prosperity, and hence it is very much appropriate that their temple too is to be rebuilt to reflect the grace they have bestowed upon our community. The temple complex is planned to be reconstructed foreseeing the requirements in the far future.
A sum of Rupees 12 crore is estimated for the temple renovation. When we approached Srimad Samyamindra Theertha Swamiji for valuable guidance, HH reminded us – "The funds required for renovation will come to you by God's grace, but that alone will not serve the purpose. Preserving and strengthening unity among the community is the most important thing." Keeping in mind the precious words of wisdom of His Holiness, it's time for us to work hard. It is our honour and a privilege to be a part of the renovation project of our temple.
We are blessed with a duty of following the path of Dharma of our ancestors and achieve greater heights. With profound respect and love, we request all our Samaj bandhavas to put their heart and soul to work for the reconstruction of the temple which is considered to be a noble deed.
We humbly request you to be blessed by generously contributing with Thanu – Mana – Dhana for the renovation of this glorious temple of Lord Sri Lakshmi Venkatesh and Sri Mahamaya.
Jeernodhar Meeting and Project
Presentation